Major Cases
Here are some of Andy Simrin's major cases, with links to briefs written by Andy Simrin and links to the opinions of the Oregon Supreme Court and the Oregon Court of Appeals

Tiner v. Belleque, Marion County Case Number 07C-13469
Post-conviction petitioner Jeffrey Tiner was convicted of aggravated murder, and the Oregon Supreme Court upheld his convictions and death sentence in State v. Tiner, 340 Or 551, 135 P3d 305 (2006). Andy Simrin and co-counsel W. Keith Goody worked with private investigators Peter De Muñiz and Typhanny Tucker and Mitigation Specialist James Hudson helped prepare the case. The Honorable Frank L. Bearden vacated Tiner's death sentence. The case is now in the Oregon Court of Appeals. Mr. Simrin and Mr. Goody are challenging the denial of guilt-phase relief and filed the opening brief on February 20, 2013. The State filed a cross-appeal, challenging Judge Bearden's decision to set aside the death sentence. The State's answering brief is currently due on October 9, 2013.
Engweiler v. Felton, 350 Or 592, 260 P3d 448 (2011)
Representing himself and litigating his case by phone from within the Oregon State Correctional Institution, inmate legal assistant Conrad R. Engweiler won a writ of mandamus in the Marion County Circuit Court. The writ directed the Board of Parole and Post-Prison Supervision to conduct a hearing to determine Engweiler's actual term of incarceration after he was sentenced for a crime he committed as a juvenile in 1990. The case was appealed, and this was Mr. Simrin's fourth appearance in the Supreme Court on behalf of Mr. Engweiler over a nine-year period, all related to the Board's refusal to conduct a prison term hearing. In a 48-page opinion written by Chief Justice Paul J. De Muñiz, the Supreme Court ordered the Board to conduct the prison term hearing that it was supposed to have conducted more than 20 years ago. The Board established a tentative release date in 2018. In his fifth trip to the Supreme Court for Engweiler on June 4, 2013, Mr. Simrin contended that the Department of Corrections was required to credit Engweiler with earned time credits, as the Supreme Court had indicated would be required in an earlier opinion. This latest case has not yet been decided. Click here to read the opening brief. Click here to watch Andy Simrin argue Mr. Engweiler's case in the Oregon Supreme Court.
State v. Turnidge, Oregon Supreme Court Case No. S059156
Bruce and Joshua Turnidge were convicted of aggravated murder in relation to the explosion of a bomb at a bank in Woodburn, Oregon. Oregon law requires death sentence cases to be automatically appealed directly to the Oregon Supreme Court. Andy Simrin and co-counsel W. Keith Goody were appointed to represent Bruce Turnidge in his appeal and filed the opening brief on July 25, 2013. The State's answering brief was filed on July 21, 2014. The case has not yet been scheduled for oral argument.
Wilson v. Board of Parole, 349 Or 461, 245 P3d 119 (2010)
The petitioner was convicted of two aggravated murders he committed at the age of 15, and the trial court imposed consecutive life sentences, each with a 30-year minimum period of confinement. Twenty years later, the Board of Parole determined that he was likely to be rehabilitated within a reasonable period of time. Overruling its previous decision in Norris v. Board of Parole, 331 Or 194, 13 P3d 104 (2000), the Oregon Supreme Court held that the rehabilitation finding applies to both sentences, overrides both minimum periods of confinement and requires the Board to set an initial release date under the parole matrix.
Kincek v. Hall, 217 Or App 227, 175 P3d 496 (2007)
The petitioner's conviction for attempted murder was set aside in this post-conviction proceeding because the petitioner's original trial attorney failed to call a psychologist as an expert witness to answer hypothetical questions that could have assisted the jury in determining whether the petitioner intended to kill the victim when he threatened her.
Ornelas and Ornelas, 217 Or App 1124, 174 P3d 1077 (2007)
In this divorce case, the Court of Appeals reversed a judgment that granted half the value of a diamond ring to the husband, because the wife had been given the diamond as a gift before the marriage. It did not matter that the couple mistakenly thought that the diamond was a fake until a jeweler examined it during the marriage and that the couple couple then used money from their joint checking account to have the diamond mounted on a new band for the wife to wear.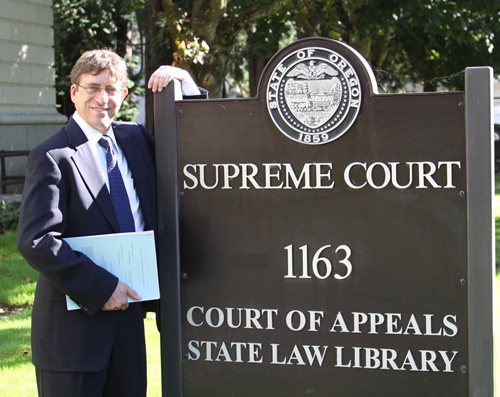 State ex rel Engweiler v. Cook, 340 Or 373, 133 P3d 904 (2006)
An inmate sentenced to life imprisonment with the possibility of parole is entitled to earn good time credits for appropriate institutional behavior. Once the Board of Parole determines the inmate's term of incarceration, the inmate may begin earning a reduction in his term of incarceration. An inmate cannot have his term of incarceration reduced below any statutorily required minimum, such as a Measure 11 Minimum Sentence, by earning good time.
State v. Davis, 336 Or 19, 77 P3d 1111 (2003)
The single disputed issue in this criminal case was who fired the shot that killed the victim. The trial court had refused to allow the jury to consider evidence that the alleged victim had made numerous suicide threats, because the last threat was two years before the shooting. The Oregon Supreme Court reversed the defendant's conviction for murder, because the exclusion of evidence that was central to his defense prevented him from getting a fair trial.
State v. MacNab, 334 Or 469, 51 P3d 1249 (2002)
Requiring a convicted sex offender to register and report annually to a law enforcement agency does not constitute punishment. Consequently, applying the registration requirement retroactively does not violate the constitutional prohibitions against ex post facto laws.
State v. Riggins, 180 Or App 525, 44 P3d 615 (2002)
A juvenile offender's waiver of his right to counsel could not be considered valid simply because his father refused to hire an attorney for him.
State v. Fry, 180 Or App 237, 42 P3d 469 (2002)
The defendant could not be convicted of more than one crime, when he confessed to several crimes, but there was evidence to corroborate only one of those confessions.
State v. Jackson, 178 Or App 233, 36 P3d 500 (2001)
The defendant, a prison inmate, was accused of committing a crime against his cellmate. His trial was conducted in a makeshift courtroom that was set up inside the prison. The Court of Appeals reversed his conviction, because the trial inside the prison violated his constitutional right to a public trial.
State v. Fugate, 332 Or 195, 26 P3d 802 (2001)
A new law that changes the rules of evidence in a way that favors only the prosecution cannot be applied to cases that arose before the new law was enacted. The retroactive application of such a law violates the constitutional proscriptions against ex post facto laws.
Bollinger v. Board of Parole, 329 Or 505, 992 P2d 445 (1999)
The Board of Parole could not, prior to 1985, require an inmate to go out on parole against his wishes. Until then, an inmate could refuse parole and stay in prison until his good time time date, at which time he would be entitled to be unconditionally released.
State v. Edson, 329 Or 127, 985 P2d 1253 (1999)
A court cannot order someone to do something that is impossible as a condition of probation. In this case, the sentencing court ordered the defendant to pay a large sum of restitution, despite the fact that it found that her disability made it impossible for her to do so. The condition of probation was unlawful and required that her case be sent back to the trial court for re-sentencing.
State v. Rangel, 328 Or 294, 977 P2d 379 (1999)
In this criminal stalking case, the Oregon Supreme Court held that communicative conduct can be prosecuted as stalking only if the communication is threatening. Even if the speech is non-threatening, it may still provide context for non-expressive conduct that may be prosecuted as stalking behavior.
State v. Gile, 161 Or App 146, 985 P3d 199 (1999)
An adjudication of guilty except for insanity does not count as a criminal conviction.
State v. Norris-Romine, 134 Or App 204, 894 P2d 1221 (1995)
Oregon's first anti-stalking law was declared unconstitutional in this case. The problem was that the phrase "without legitimate purpose" in the statute had no discernable meaning. Criminal laws must give fair warning about what is prohibited and what is not, so that the ordinary person can make an informed decisions about what they can do, and this law was impermissibly vague about what might be prohibited. The Oregon legislature amended the law and clarified it. The Oregon Supreme Court held that the current version of the law is constitutional in State v. Rangel, 328 Or 294, 977 P2d 379 (1999).